Hotel Demand Forecast To Increase in 2023, Despite an Expected Recession
December 22, 2022 | 5:16pm
U.S. Gross Domestic Product and hotel demand are strongly correlated. Based on data from 1990 through 2019, changes in demand for hotel rooms year over year have mirrored changes in the GDP, a consistent trend over the past 30 years.
However, these two data points are expected to diverge in 2023 due to a host of reasons expected to drive continued growth and recovery in travel next year despite an expected economic recession.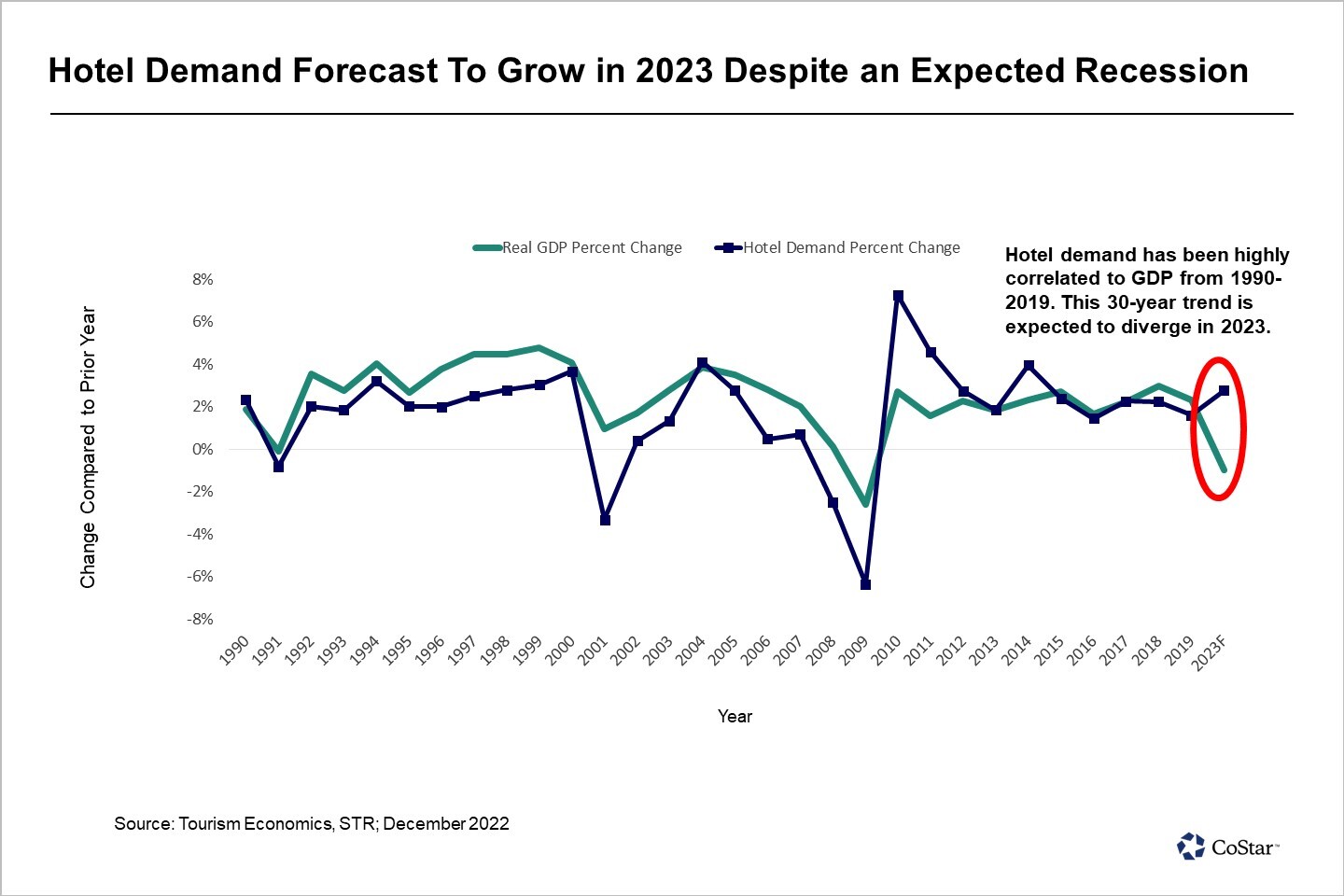 Oxford Economics expects the global economy to enter a recession in 2023. While global GDP is expected to grow 1.3% for the full year, a technical recession is forecast for the first half of the year. The GDP forecast for the U.S. is a decline of 1% for the full year of 2023. While the U.S. labor market and consumer spending continue to cool, economic data indicate that the economy has been more resilient than previously envisioned. As a result, Oxford Economics has pushed back the onset of the U.S. recession by a quarter, and U.S. GDP is expected to stagnate in the first quarter of 2023 before contracting modestly in the second and third quarters. The forecast 1% drop in GDP next year is a mild recession by historical standards.
While GDP is expected to dip, STR's latest forecast for 2023 has U.S. hotel demand increasing 2.8% and revenue per available room, or RevPAR, increasing 3.4%. RevPAR growth is expected to be evenly split between higher occupancy and an increase in the average daily rate, or ADR, each growing at the same rate of 1.7%.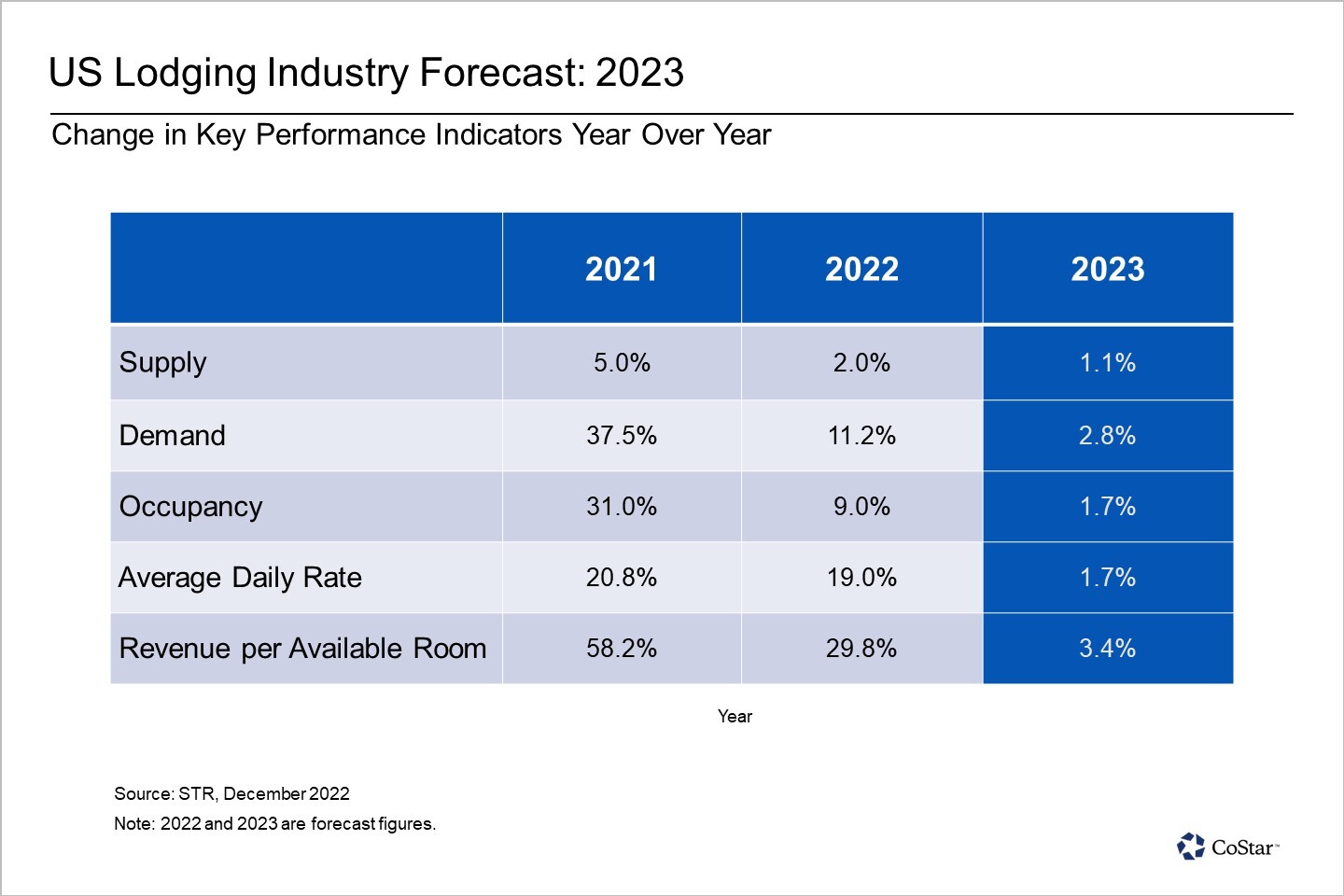 A weakening economic environment typically results in a significant downturn in travel. Tourism Economics research has determined that travel demand is highly elastic to economic activity. For example, hotel demand in the U.S. has fallen by 4.1% for every 1% drop in GDP during the three recessions before 2020. The mild recession of 1991 most closely resembles what is expected over the next year and would imply a decline in hotel revenue of more than 6%.
However, no two recessions are the same, and the expected recession in 2023 is unique in terms of its potential impact on hotel demand. Despite an economic slowdown, hotel demand is expected to increase next year due to several fundamental factors, which are new and were not prevalent in prior recessions. Those factors include no signs of weakness in hotel operating fundamentals, U.S. households and corporations in a position of strength, continued prioritization of travel experiences driven by pent-up demand and remote and hybrid work trends driving new travel demand.
No Signs of Weakness in Hotel Operating Fundamentals
Hotel operating fundamentals, specifically room night demand and ADR, have strengthened through the fourth quarter, with several of STR's top 25 markets posting record performance in October and November. Pricing power for hotel rooms remains strong in both primary and secondary markets, driven by continued robust leisure travel. Business transient demand is recovering, with the majority of large business-oriented markets recovering between 70% to 80% of 2019 levels. Year-to-date October RevPAR is up 7% compared to 2019, with demand and pricing power increasing month over month.
US Households and Corporations Remain in Position of Strength
U.S. households amassed substantial savings during the pandemic, and much of these savings remain available for travel. This is true for nearly all developed markets, especially in the US. While these savings have been drawn down to some degree, the majority remains as a consumer war chest. In the U.S., about $1.7 trillion in excess savings remains of the $2.5 trillion saved during the initial year of the pandemic. Host Hotels & Resorts President and CEO James F. Risoleo said in the firm's Nov. 3 quarterly earnings call: "While macroeconomic concerns continue to dominate the headlines, we are not seeing any signs of weakness in our business. In contrast to 2008, the banking system is in good shape, leverage levels are reasonable, and consumers still have $1.7 trillion in excess savings, with the majority concentrated in the top-income brackets, which gives us confidence that the recovery in the lodging industry is sustainable."
The balance sheets of U.S. corporations are also in much better shape compared to previous recessions, and according to the Bureau of Economic Analysis data, corporate profit margins are at the highest level since 2006. This should continue to drive corporate group and business transient demand.
Prioritization of Travel Experiences and Pent-Up Demand is Real
Consumer spending data in recent months confirms that consumers are shifting their spending from goods and products to services and experiences, including travel.
Pent-up demand in group, business travel and international inbound travel will continue to drive year-over-year growth. Group demand is 97% recovered through October, whereas business travel has recovered to only between 70% to 80% of 2019 levels and has a lot more runway to get back to pre-pandemic levels. International inbound travel is 67% recovered, and with China and other Asian markets only recently reopening, this segment also appears to have a substantial recovery upside over the next 12 to 24 months.
Remote and Hybrid Work Drive New Travel Demand
According to Stanford University's work-from-home research, as of November approximately 68% of all office jobs in the U.S. are either remote or hybrid. The "work from anywhere" trend is spurring new travel demand. Office workers who are either fully remote or on a hybrid schedule are exploring new destinations while staying connected to work. So long as remote and hybrid work continue, "bleisure" travel is expected to be an important source of demand and contribute to the overall growth in hotel room nights in 2023.
While a U.S. recession is likely next year, the travel industry is expected to prevail and deliver growth in hotel demand. With several segments still in the middle stages of recovery combined with fundamental shifts in consumer behavior and the unprecedented buying power of both U.S. households and corporations, hotel demand is expected to buck the 30-year trend and increase in an economic recession. While macroeconomic headwinds will persist, stronger tailwinds in the travel industry should result in continued growth and forward momentum in 2023.